Business Houses are always exploring ways to perform optimally with the limited resources at hand. Organizations are investing heavily and constantly working to derive insights from the data which will help them achieve higher profits. With the rapid growth of data generation from various sources, businesses are finding ways to analyze them effectively to improve business efficiency. To provide the right inputs to the business leaders, right tools become critical.
SAS has been a pioneer in delivering advanced analytical insights to over 83,000 clients across the globe. With over 41 years of experience in "Business Analytics", SAS customers are spread across 144 countries and is World's largest privately held software company. SAS empowers and inspires customers around the world to transform data into intelligence. SAS is recognized as a Leader for 6 consecutive years in Gartner's Magic Quadrant for Data Science and Machine Learning Platforms.
Avinash Group of Institutions has a power-packed partnership with SAS® and have created a course designed specifically for the finance and commerce professionals on Business Analytics.
Avinash College is the 1st undergrad college in India to offer SAS Business Analytics with BBA/B.Com
The Course and Curriculum is designed keeping in mind the industry requirements and offering the end to end knowledge, skill and competency in the major areas of analytics like Information Management, Visualization Analytics and Advanced Analytical Modeling.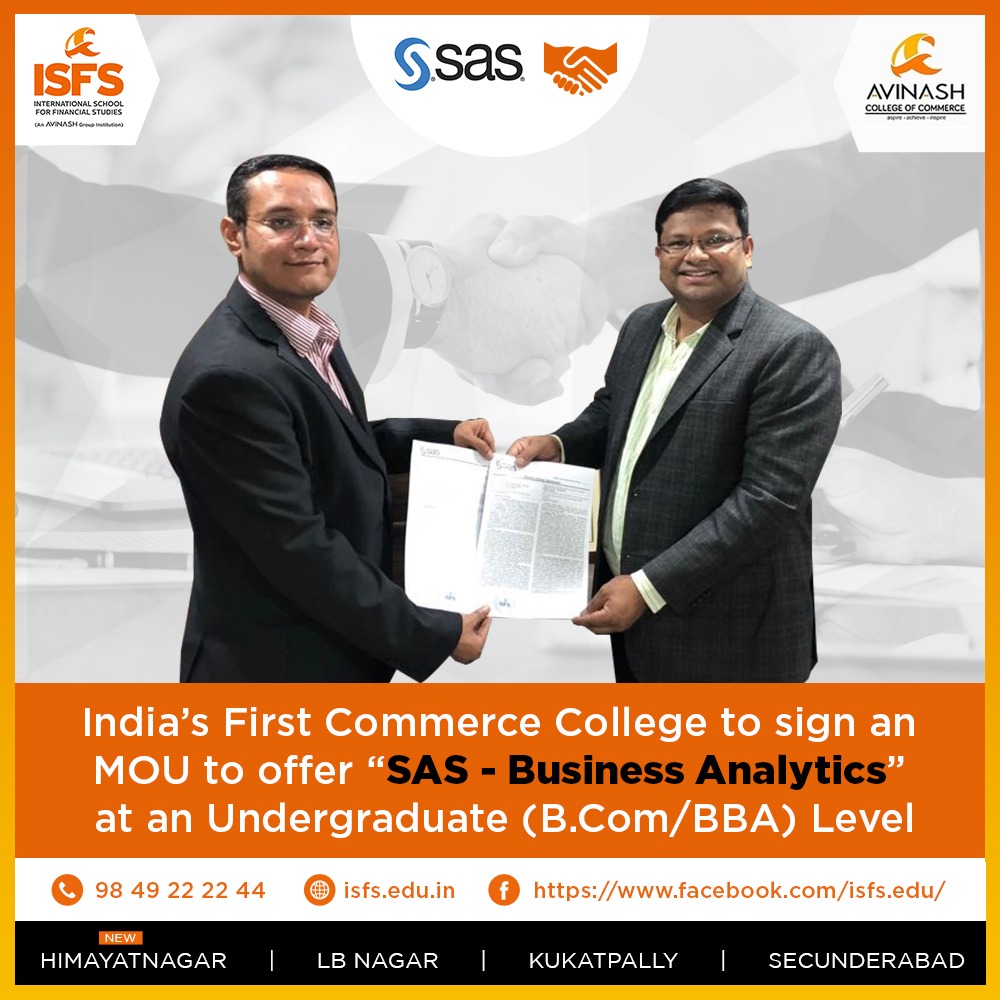 Advanced Business Analytics for Finance Professionals:
(powered by SAS®)
SAS® has specially designed the curriculum for the commerce and finance professionals covering aspects:
Financial Data Visualisation using SAS Visual Analytics (VA)
Financial Machine Learning (ML) using SAS Viya
Base SAS
Predictive Modelling using SAS Enterprise Miner
Key benefits for the students:
Official SAS Authorized Training and Certification
Accredited Courses
Digital Acclaim Badges for Training Completion and Certification.
24×7 Access to Latest and Genuine Software.
Official SAS Global Curriculum and Downloadable Training Content
Global Certification (1 attempt) is included.
All Courses and Certifications are globally standardized and accepted.
Acclaim Job portal access for jobs listed in 6 countries for SAS skills.
Highest Quality Assured